Rann Of Kutch - Full Moon Day Tour
Adventure Geek invites you for Rann of Kutch - Full Moon Tour
Rann Kutch is Pristine white sand, chilly winter nights, scrumptious food, heavenly horizons, melodious folk music, and traditional dance; could it be any better for your ultimate break from the busy office life? Surrounded by the Arabian Sea, Kutch marks as the last Indian territory towards the west with numerous crafts, traditions, and cultures brimming to the point of brilliance.

As Mark Twain says-"Travel is fatal to prejudice, bigotry, and narrow mindedness", don't hesitate and pack your bags since Kutch Rann Utsav is just around the corner. Discover yourself, hear silence, speak to the unknown and make new friends. The land of a white desert is waiting for you to unravel its mysteries.

Make your travel memories this season. It promises you mouthwatering cuisines, state-of-the-art metal crafts, embroidered stuff, traditional dances & events that you can never forget.
Rann of Kutch festival is also famous as Kutch Festival.
Check out our Other Backpacking trips
 
Above dates not possible?
Contact us & we promise to customize the above itinerary at your convenience.
Call now on 9004675388 or drop an email at adventuregeekk@gmail.com
3 Nights 4 Days
24 Nov, 08 Dec, 22 Dec, and more
Bhuj, Gujarat
Walk on the white desert
Go on a date with the Moon
Ride on a Camel
Accommodation in AC Bhunga
Shop Kutch's colorful handloom & handicraft
The soul-stirring folk Music of Kutch
Indulge in the finger-licking local cuisine at Rann of Kutch
Thrilling adventure zone
Kutch Festival 2023
Kutch Itinerary 

Day 1: Friday, Meet Team at Dadar Railway Station
05:00 pm: Meet the Adventure Geek Team at Bandra Western.
Catch BDTS -- Bhuj (09455)  Board the Train and spend overnight on the Train.
Day 2: Saturday, - Kalo Dungar – Hodka – White Desert
Reach Bhuj at 08:30 am Breakfast by Train and we will head towards Kala Dungar
09.30 AM to 11:30 AM: Travel toward Kalo Dungar, Explore
11.30 AM to 01.00 PM: Check-in and freshen up in Tent/Bhunga
01.00 PM to 04.00 PM: Enjoy Delectable Local Cuisine Lunch at Dining Area
04.00 PM to 04.30 PM: Evening High Tea
05.00 PM to 08.30 PM: Visit White Rann and enjoy Watching the Sunset and also the Full Moon
Try camel riding and attend live performances ( If it's available).
08.00 PM to 09.30 PM: Visit the Shopping Area
09.30 PM to 10.30 PM: Dinner at Dining Area
Day 3: Sunday, Bhuj Sightseeing (Full day)
06.30 AM: Morning Visit to White Rann
07.30 AM to 08.30 AM: Breakfast at Dining Area
09.30 AM: Check-out and Departure for Bhuj with a Complimentary Sightseeing
Visit AinaMahal & PragMahal and proceed for MANDVI Beach Sightseeing.
02.00 PM: Famous Lunch House for Lunch
03.00 PM: Post lunch explore Vijay Vilas Palace & Mandvi's Famous Beach, Enjoy Sunset.
10.00 PM: Start Back Journey to Bhuj Station
Overnight Journey in Train
Day 4: Monday,
Reach Mumbai by 02.00 pm.
(Trip concludes with Happy Memories)
 
Places to Visit  :
Swami Narayan Temple :
This mandir comes under the Narnarayan Dev Gadi. Senior devotees Gangarambhai jethi Sundarjibhai, Jigneshwarbhai, and others from the Bhuj region of Kutch went to Gadhada where God Swaminarayan was attending a Fuldol festival. In that festival, the devotees of Bhuj met Swaminarayan and requested him to construct a temple in Bhuj.
Bhuj is one of the six places where Lord Shree Swaminarayan constructed the temple Himself. This divine thought of Bhagwan Shree Swaminarayan alone signifies the vast amount of spirituality the land of Kutch offered not only in the past but even today.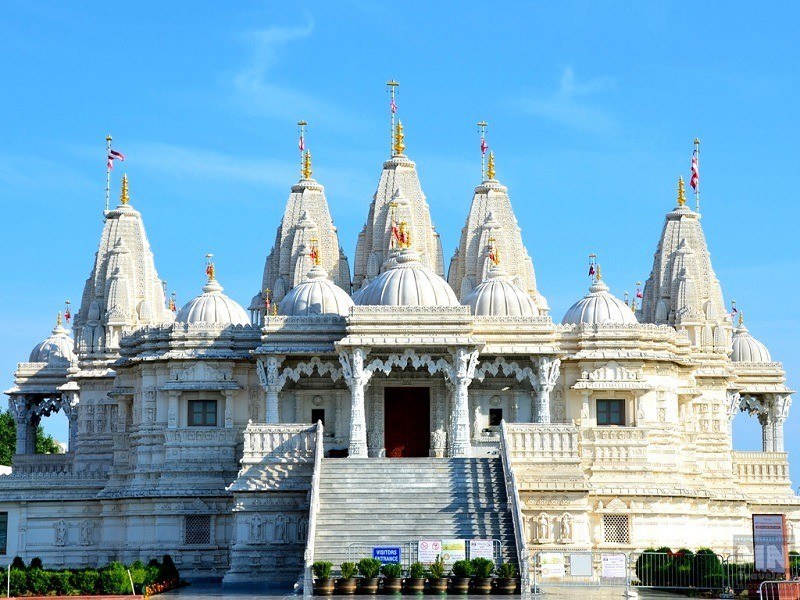 2. Magnetic Point : 
Magnetic Hill: On the way to Kalo Dungar you will experience the magnetic hill, the gravity is higher than the Ladakh, everyone knows about Ladakh magnetic hill, Ladakh is nothing compared to Kalo Dungar, it's about 250 meters long.


3. Tropic Of  Cancer :
Situated at around 23.4 Degrees north of the Equator Tropic of Cancer Passes through Kutch, Surendranagar, Ahmedabad, Mehsana, Ravalli, and Sabarkantha districts of Gujarat. Mehsana – It is one of the districts in Gujarat city through which the Tropic of Cancer passes.

4. Kalo Dungar ( The Black Hills ) Kutch : 

Kalo Dungar or Black Hill is the highest point in Kutch, Gujarat, India, at 462 m (1,516 ft). It is located 97 km (60 mi) from District headquarters of Bhuj and 25 km (16 mi) from nearest town Khavda.This is probably the only place in Kachchh from where a panoramic view of the Great Rann of Kutch is possible. Since it is located very near to the Pakistan border, there is an Army post at the top; beyond here, only military personnel are allowed.
The Kalo Dungar is also famous for a 400-year-old Dattatreya temple.
Kalo Dungar magnetic hill or Kalo Dungar Anti Gravity slope is an hill road with optical illusion of a gravity hill where vehicle seems to defy the gravity and roll from down slope to up the slope


5.Kutchi Bhunga :
We offering to stay in traditional Kutchi Bhungas. These bhunga are traditionally decorated with mud-mirror art work, provides rural feel and are comfortable to stay. Our Bhungas are meticulously constructed in the traditional way. All the mud cottage are traditionally crafted with interior mud work and decorated with traditional cloth patch works and local paintings on wall, beautifully decorated with regional handicrafts and feature en suite bathroom facilities.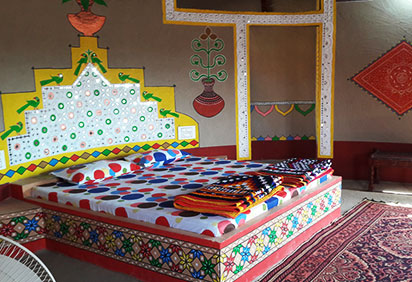 6. Rann Utsav  : 
 
Rann Utsav is an awesome festival in Kutch, Gujarat, India. It is a Carnival of Music, Dance, and natural beauty of White Rann where you can experience tent city luxury and much more. Visiting on Full Moon Day must be a dream for every traveler. Kutch Rann Utsav is the shimmering landscape that gives the enchanting moments of this Fest, which feels like Heaven On Earth during Festival Time. In fact, it's a Family holiday destination to explore fun moments and store in cameras for a lifetime. It will be from 1st Nov 2023 to 25th Feb 2024
There are plenty of things to do during the ran festival stay including participation in Golf Cart, ATV Ride, Camel Cart Excursion, Paramotoring, Meditation, Yoga, and Enjoying Gujarati Culture. 

7. White Thar Desert of Kutch, Gujarat :
Rann of Kutch, also known as White Rann or Great Rann of Kutch is a seasonal salt marsh located in the Thar desert in Gujarat and partly in the Sindh province of Pakistan. This vast expanse of salt crust is formed because the rate of evaporation of water is lesser than the rate of precipitation. It is one of the largest salt deserts in the world. The White Rann covers almost 7500 square km of the area. The name 'Rann' comes from the word "Viraan" which means deserted wasteland. It's a treat to the eyes to see white salt marsh for as far as your eyes go.


8. Prag Mahal :
Prag Mahal is named after Rao Pragmalji, who commissioned it and construction began in 1865. It was designed by Colonel Henry St Clair Wilkins in what the local tourist office describes as the Italian Gothic style, although it would be better described as a Romanesque architecture twist on the Indo-Saracenic Revival style, and many Italian artisans were involved in its construction. The palace artisans' wages were paid in gold coins. Construction of the palace, which ultimately cost 3.1 million rupees, was completed in 1879 during the regency of Khengarji III (Pragmalji II's son) following Pragmalji II's death in 1875. The local Kutchi builder community (Mistris of Kutch) was also involved in the construction of Prag Mahal along with Colonel Wilkins.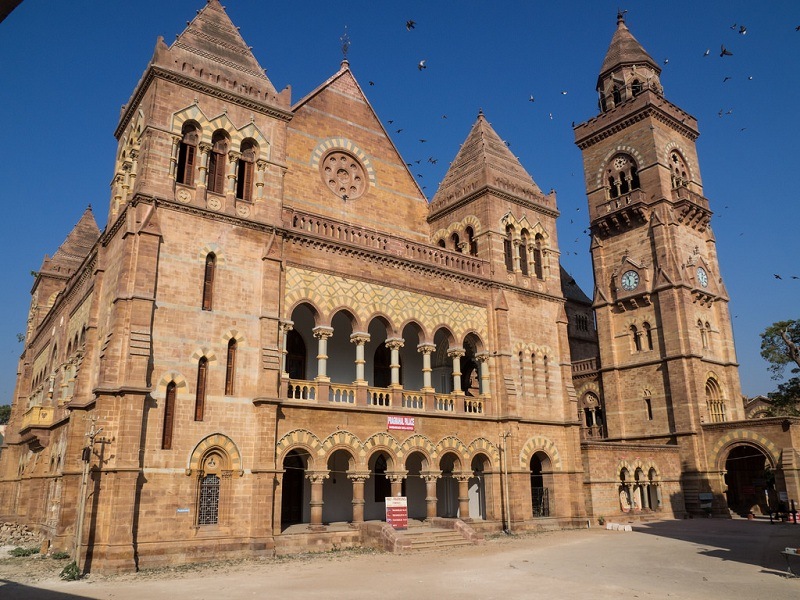 9. Aaina Mahal :
The Aina Mahal (lit. 'Palace of Mirrors') is an 18th-century palace that is located next to the Prag Mahal in Darbargadh, Bhuj, Gujarat, India. The palace was built by Rao Lakhpatji of Kutch State around 1750. Lakhpatji's master craftsman Ram Singh Malam designed the palace in the local style and decorated it in the European style with glass, mirrors, and tiles. The palace had two floors; the first floor had the Audience Hall, the Pleasure Hall, the Hall of Mirrors, and the State Apartments, and the second floor had the ante-chamber, Darbar (Court) Hall, and Marriage Hall. The building has been converted into a museum which includes a "Europeanerie" collection that includes clocks, wares, mechanical toys, paintings, and pictures.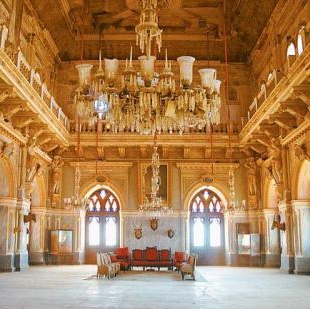 10. Vijaya Vilas Palace :
Vijaya Vilas Palace is a summer palace of ADITYA GELOT Maharao of Kutch located on the beach of Mandvi in Kutch, Gujarat, India. Built during the reign of Prince Patel, the Maharao of Kutch, as a summer resort for the use of his son and heir to the kingdom, the Yuvraj Shri Vijayaraji, it was named after him as Vijaya Vilas Palace. The construction of the palace started in 1920 and was completed in 1929. The palace was built with red sandstone. Its distinctive Rajput architecture largely refers to the plan of the palaces of Orchha and Datia. It is designed with a central high dome on pillars, Bengal domes on the sides, windows with colored glass, carved stone 'jalis', domed bastions at the corners, an extended porch, and other stone-carved elements. The palace is set in the middle of gardens with water channels and marble fountains. The carved stone works of Jalis, Jharokas, Chhatris, Chhajas, murals and other stone carvings, and colored glass work on windows and door panels have all been meticulously crafted by the architect and craftsmen from Jaipur, Rajasthan, Bengal and Saurashtra, and local Kutchi artisan community, the Mistris of Kutch and Suthars. The balcony at the top offers a complete view of the surrounding area. The windows ensure the feeling of being in the open space, with sea winds passing through.




11. Mandavi Beach :

The Mandvi beach is a stretch of golden-brown sand located at the southernmost point of Gujarat's Kutch district. It is located south of the main intersection, Bhuj. The beach is located in the same town as its name, which historically had a busy port serving India. The historic part of the town still has the fort wall from the former trading center. The serene beach is a welcome addition for visitors to the area. Evenings are especially wonderful because of the sunset and all the activities from snack vendors to balloon vendors.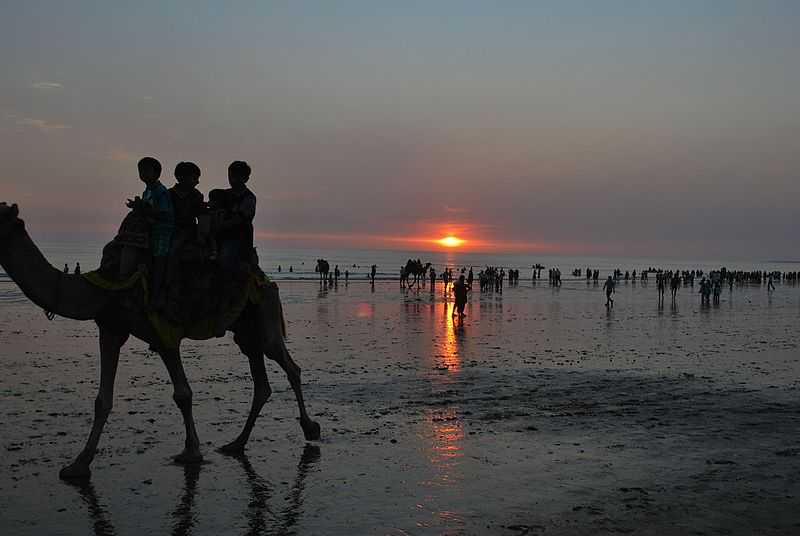 FAQ For Rann of Kutch packages

What is the best time to Visit Rann Kutch?
Kutch Festival 2023 dates start from November to Feb.
What is the location of Rann of Kutch?
White run Kutch is also known as Rann Utsav and It is located in Bhuj.

Who can visit the Kutch Festival 2023?
Anyone of any age group can visit White Rann of Kutch.

Did registration start for the Rann of Kutch Booking Festival 2023?
Yes, Kutch festival registrations have already started for 2023.

Where do we stay in Kutch??
We stay in Bungas a traditional way or Kutchi-style huts with modern facilities on a sharing basis

What is included in your Kutch tour package price?
We provide train SL Coach tickets from Mumbai to Mumbai along with sightseeing in Bhuj in Ac Coach 
and entry in Kutch Utsav as well as the overnight stay in Bunga.

Image Gallery



Rann of Kutch Packages
Bhuj to Rann of Kutch
Kutch Rann Utsav Packages
Rann of Kutch in Map
Rann of Kutch Tour
Kutch Tour
Kutch Resort Dhordo
Rann of Kutch is in White Salt
Rann of Kutch in December
Rann of Kutch Festival 2023
Rann of Kutch Kite Festival
Rann of Kutch Package
Rann of Kutch 2023
What is included in the tour
Accommodation in Triple Sharing at Village Hodka (Kutchi style Stay)
(Couple price 1000pp extra)
Mumbai to Bhuj & Return by Non-AC Sleeper Class
(Ac coach Additional Charges)
Pure Veg Meals (Breakfast, Lunch & Dinner – Day 1 ) ( Breakfast & Lunch & Dinner – Day 2)
Entry, parking, and toll charges
​Water Bottle for Trip From Bhuj 
​Camera Charges
What is NOT included in the tour
Day 1 on Train Travel
Rides and activity charges
Performance charges
Any miscellaneous expenditure incurred during the tour
Anything not mentioned in the inclusions
♣ Block your seat at just ₹2500/- and pay the rest 15 days before the event date.
♣ We've made it easy to change your weekend travel plans up to 20 days before your trip's departure date.
♣ You can choose new dates and/or a new destination without any penalty for up to 20 days before the trip date.